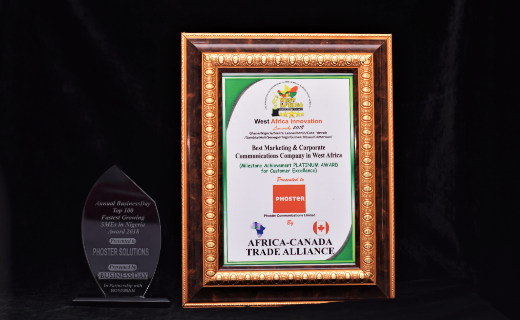 Business day Newspaper, Nigeria's No. 1 business daily, has selected Phoster Communications Limited for its maiden business award, as one of Nigeria's top 100 fastest growing SMEs. Designed to recognize and celebrate the impact and achievements of SMEs in Nigeria, Business Day awarded 100 Nigerian-based SMEs whose growth in 2018 is commendable.
Phoster Communications is a Digital, Advertising & Branding Agency with fresh, clever and unexpected ideas that turn the spotlight on brands. Whether in form of a video, logo, print, webpage, social media post, or anything at all, we help brands get the attention of prospects and take a spot in their hearts. We proffer solutions across traditional and digital spectrum to help businesses and organizations amplify brand essence and engage their audiences creatively.
The year 2018 is a year that Phoster Communications made unprecedented progress and got more global recognition. For instance, in July, Phoster was given a Platinum Award as the "Best Marketing and Corporate Communications Company in West Africa", by the West Africa Innovation Awards.
With our core strength built on strategic thinking and storytelling, we pride ourselves as an agency with the right tools, and skills to help inject fresh ideas into brands and give them the right execution that puts the spotlight on them, in order to achieve the most sought-after top-of-mind awareness that is desired.
Our MD Mr. Tunde Owoeye-Phoster has also made appearances in different capacities this year sharing knowledge about strategy, branding and digital, like on High Impact TV where he spoke on "Rebranding Nigeria" on October 1st, on EkoFM Radio station where he has talaked about branding, marketing and storytelling and later in the year December where he spoke at Oracle office in Lagos Nigeria to ADMARP (Association of Digital Marketing Professionals) on 'Beyond Analytics' with a great feedback too.
It is worthy of note that 2018 was when Phoster Limited signed up PAL Pensions as a client among several other clients for the year. The recognition of Phoster Communications Limited by Business day is indeed not out of place and it is an accolade well deserved.
We look forward to more in the coming years with our commitment to help our brands consistently talk above competition!